Things to Consider When Driving in Uganda
Self driving in Uganda can be an exciting way to explore the country's diverse landscapes and experience its culture and it has become an order of the day to many tourists who prefer to explore on their own. Uganda is one of the best countries in Africa to tour due to its diverse things to do and see including the endangered mountain gorillas. many travelers whole over the world jet in to  iscover the African secretes.  However, before choosing to self drive in Uganda, it's essential to be aware of certain factors and considerations to ensure a safe and enjoyable journey. Find below some key things to consider when driving in Uganda.
Road Conditions: Road conditions can vary widely in Uganda. While major highways and roads connecting major cities are generally in decent condition, many rural roads may be unpaved, uneven, and occasionally challenging to navigate, especially during the rainy season. roads leading to national parks like Kidepo valley national park, ishasha sector of Queen Elizabeth National Park, and many other parks since most of them are located in  remote areas.
Vehicle Choice: If you plan to venture off the beaten track or  in national parks the main roads or explore national parks, consider renting a 4×4 vehicle, is the perfect car to consider driving up country. These vehicles are better suited to handle rough terrain and can provide a more comfortable experience on dirt roads and during safari adventures.
Driving Habits: Be prepared for different driving habits and road etiquette in Uganda. Expect encounters with motorbikes, cyclists, pedestrians, and large trucks on the roads, and exercise caution and patience.
Traffic and Congestion: Major cities like Kampala can experience heavy traffic congestion, especially during peak hours. Plan your travel accordingly and consider avoiding driving during rush hours.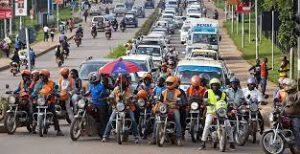 Wildlife on Roads: In certain areas, especially near national parks or wildlife reserves, animals may roam onto the roads. Be cautious while driving, especially during dawn and dusk when animal activity is higher.
Road Safety: Ugandan roads may lack proper signage and lighting, particularly in rural areas. Drive defensively, obey speed limits, and stay alert to unexpected hazards.
Documentation: Ensure you have all necessary documents, such as a valid driver's license, vehicle registration, and insurance, before driving in Uganda. Ounce you are stopped by traffic officer you are safe since you have everything at hand
Fuel and Supplies: in some remote areas, you are advised to buy fuel in advance as there Plan your routes and carry sufficient fuel, especially if you are traveling to remote areas where fuel stations might be scarce. Additionally, carry essential supplies, including drinking water, snacks, and a first aid kit.
Local Knowledge: Familiarize yourself with the routes and destinations you plan to visit. It's helpful to have a reliable map, GPS, or smartphone with a navigation app to assist with directions.if you need a google map, its always advisable to ask your car rental company if they have availability, a GPS is charged $50/ day, or you can as well ask for a local sim card to get connected to the google map.
Wildlife and Conservation: When driving near wildlife areas or through national parks, adhere to park rules and guidelines. Respect the wildlife, keep a safe distance, and avoid littering or disturbing the environment. when driving in a national park, you shouldn't exceed the speed limit of 40kilomters per hour
Police Checkpoints: Be aware that police checkpoints are common in Uganda. Cooperate with authorities and have your documents readily available for inspection.
If you are not confident driving in Uganda or are unfamiliar with the area, consider hiring a local driver or using guided tour services to ensure a more stress-free and enjoyable experience. or if you you want to go self drive, please just write to us, our reservation team will respond to you so quickly